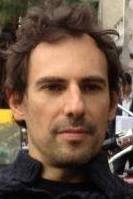 Carlo Tenan in his interview below certainly appears to be a man of few words, but he gets to the point of each question in a very direct and unadorned way. And certainly, his piece, Don't Fix It for our 2014-2015 competition is a striking example of really well-written, and delightfully surprising, microtonal music. Carlo was born in Italy, has degrees in Piano, Oboe, Composition, Conducting and Electronic music. His scores have been reported and awarded prizes in several international competitions including the "2 Agosto" International Composing Competition", "Uuno Klami International Composition Competition" or the "Opera J Competition" (contest sponsored by Opera tomorrow / As.Li.Co., L'Opéra Royal de Wallonie and the Teatro Real in Madrid). Here is Carlo in conversation with our own Chris Vaisvil back in early March.
UnTwelve: When you compose microtonally what are your methods and approaches?
Carlo Tenan: As for tonal music, first I write on the staff and then I develop it on other software.
UnTwelve: For a potentially electronic-only work, do you think there is a reason to commit music to paper anymore or has excellent modern recording equipment, sequencers, and digital audio workstations has made this activity less important?
Carlo Tenan: I think that both activities should coexist.
UnTwelve: Is live performance of microtonal music important?
Carlo Tenan: Yes it is, especially aiming at bringing people closer to microtonal music.
UnTwelve: Is there a microtonal culture or tradition that you look to for inspiration?
Carlo Tenan: I love all ethnic music using microtonal range, above all the Indian one.
UnTwelve: Do you still use 12 equal?
Carlo Tenan: Yes I do, I'm still not tired of them and of the possibilities they offer.
UnTwelve: Do you think the album is dead with the buying of single songs with a click?
Carlo Tenan: No I don't, but maybe what is much harder is writing an album and trying to sell it.
UnTwelve: Should music be free?
Carlo Tenan: Why should an artist work for free?
UnTwelve: As you know Untwelve promotes the use of microtonality in popular music in any genre - how do you envision the way microtonality will be integrated in music? Note: for practical purposes this means Western music.
Carlo Tenan: I think that we should give ethnic foreign music more opportunities, while weakening interests related to commercial music. In Italy you can listen to pop music in almost every public place (markets and so on). Why? Isn't our musical tradition enough for us?
UnTwelve: What are your future plans for Microtonal exploring?
Carlo Tenan: I'd like to set a new unplugged microtonal musical instruments band up, in order to explore the possibility of coexistence between the microtonal and the tonal system.
UnTwelve: Are you a fan of subtle or "in your face" use of alternative tunings or how do you use these extremes?
Carlo Tenan: I like them but I'm focused on finding my way now.
UnTwelve: What is your most memorable microtonal experience?
Carlo Tenan: I've been very impressed by some Indian raga and some of Ligeti's pieces.
UnTwelve: Should microtonal music be promoted as such or simply as music without calling special attention to tuning?
Carlo Tenan: I think it should be just called contemporary music.
UnTwelve: What would be your dream microtonal situation?
Carlo Tenan: An unplugged band made up of instruments from different cultures in dialogue with an electronic microtonal one.