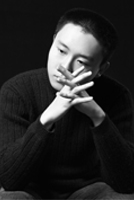 UnTwelve is proud to present this interview of Shi Jian, 2nd place winner in our 2011 composition competition. Jian's winning piece Lady Peony and the Ghost Opera utilizes the Qin-tuning system created by Chinese ancient musician Zhuxi, and is scored for erhu, gaohu, pipa and vocal soloists with unearthed relics bianzhong, yinxian and yueqin.
National Scholarship winner Shi Jian (b. Xi'an, Shaanxi Province) is a Chinese composer as well as a doctor. He started early in music, studying piano at the age of 3 and then beginning formal musical studies at 8. His teachers have included Shi Zhongke, Isseki Oono, and Vladimir Zanik. Jian is reading for a degree in the world-famous Xiangya School of Medicine, Central South University. He also studied at Tsinghua University, Xi'an Conservatory of Music and Shaanxi Traditional Opera Research Institute. Shi Jian's music has been performed by the Shaanxi Symphony Orchestra, New Sound Ensemble, CSU Art Troupe etc. His music and performance have been broadcast on China Central Television, Shanxi People's Broadcasting Station, Xi'an television etc. He has also received numerous awards such as Merck Serono Chinese Elites award, First Prize at 6th Hong Kong International Competition of Music & Arts, Second Prize of 5th Singapore Zhongxin International Music Competition, and Honor Student of CSU and Prominent College Student of Hunan. Shi Jian is currently the composer-in-residence for the New Sound Ensemble, the president of Harry Partch China Fans Association (HPCFA), vice-president of Nikolai Kapustin China Fans Association (NKCFA), and an intern at the Third Xiangya Hospital.
UnTwelve: Can you tell us a little bit about your musical background?
Jian Shi: I grew up in Xi'an, an ancient cultural city in China where the historic Giant Wild Goose Pagoda and the Terra-Cotta Warriors are world famous. It is my father who, being a musician, brought me into the world of music. He taught me piano when I was three years old. I discovered the magic of classical music during my childhood. After winning several awards in piano competitions, I turned to music theory and composition as well as jazz improvisation in my late teens.
And then I had to face a tough time. I was at a turning point; I didn't know whether to go to the conservatory of music or to medical college. Ever since I was a little boy, I had always dreamed of becoming a doctor. It would be a big challenge for me to enroll in medical college because it meant acquiring higher and top scores, and for that I had to give up my music career, which was unimaginable for me. I was on the horns of a dilemma.
Finally after several years, I am almost a graduate clinical medical student at the famous Xiangya School of Medicine, Central South University, and I haven't given up my music either! I take lots of composing lessons, performed my music, and am getting ready for a music theory and composition degree. I try my best to do well in both music and medical studies.
Un12: When did you discover tuning and the use of microtonality as an interesting dimension to use in your composing?
JS: In high school, I found a CD of Harry Partch's Music. I was very much puzzled by the magic of it; I didn't really know what it was. So I turned to my composition teacher Prof. Zhongke Shi for more information. It happened that my teacher was doing some research on microtonality, so he helped me understand more about it. Prof. Zhongke Shi also introduced me to some microtonal music on traditional Chinese musical instruments, which I think is really an emerging phenomenon with all kinds of splendid colors. All of that has had a strong impact on me and I decided to go further.
Un12: Can you introduce your work Lady Peony and the Ghost Opera?
JS: Lady Peony and the Ghost Opera is composed to depict several "dramatic moments," telling the story of Lady Peony, a kind-hearted and beautiful girl, who is a Chinese mythological character. Her appearance attracts a devil who forces her to be his wife. But Lady Peony would rather sacrifice herself than give her soul to the devil. Afterwards, the Emperor of Heaven is moved by her faithful and unyielding spirit, and helps Lady Peony take revenge, wiping out the devil.
The title of this work alludes to its mysterious and lyrical essence, the seed out of which grows the entire piece, but also to its fundamental metamorphosis. Practically, it is made up of two parts: the elements of ancient Ghost Opera and the theme of Lady Peony. The former is steady and slow but filled with dramatic tension. And the theme of Lady Peony is performed by lirico-wanwan qiang (a traditional Chinese singing form), which appears at the end as well as the climax of the work. With the gradual disappearing of Lady Peony's voice, flowering imperceptibly from this surreal ambient landscape, a reincarnation of the work's opening material swiftly brings us to the end.
In Lady Peony and the Ghost Opera, the microtonal techniques are no longer simply technique, but an expression of emotions. In this work, "Ku tone" indicates sadness and firm belief of Lady Peony; "Huan tone" represents Lady Peony's desire for a peaceful life. Actually, this piece does not only tell us the legend of Lady Peony, but also reflects human spirituality, which is too often buried in the bombardment of urban culture and the rapid advances of technology. It is a dialogue between past and future, spirit and nature.
Un12: How did you go about composing and producing your work for the competition? What was the process like?
JS: The conception of Lady Peony and the Ghost Opera took only five minutes, but composing and producing it took almost a month. Some unexpected things occurred during the production process. I was wondering whether it would be better to use a lirico-wanwan qiang performer or a soprano for the theme of Lady Peony, and I was a little stumped on how to present the ghost's voice. I had xun, paixiao, yueqin and other traditional Chinese musical instruments to choose from. But the result turned out quite unsatisfactory. Finally, the sound engineer found a sound clip and added it in. I tentatively decided to use muyu and Chinese gongs because I wanted some parts to sound like ancient manuscripts from the remains of an old temple. Some of the vocalists' improvisation also made the melody of Lady Peony sound like some soul still exists in this worldly cold excitement. I never thought composing would be about all this before my try at it. To sum up, the process of composing and producing is really interesting and unforgettable.
Un12: Which persons, historical or living, have had the greatest influence on you and your work?
JS: I'm influenced by almost everything I come across, but I would say currently my greatest influence is Chinese traditional music and opera. They are the original sources of my artistic creation. In addition, Harry Partch and Zhongke Shi are very important to me. The former took me into the world of microtonality and the latter set my heart free on the wings of music. And Nikolai Kapustin inspired me to combine a classical approach to composition with an authentic command of another style. His successful combination of jazz harmonic and rhythmic language with classical form has encouraged me to break up the boundaries of conventional styles. And I also thank Wang Luobin and Alan Lomax for being my inspiring teachers, and Isseki Oono for opening the doors for me to see a wider world of music.
If you allow a slight digression, I also think that old movies had an ineffaceable influence on me. Watching these films quickened my imagination. A gleam of inspiration helps me play and compose my music. I owe this beneficial habit to my mother, who used to be a brilliant ballet dancer and flute performer, as well as a big film fan. She recommended to me a number of classic films such as Sunset Boulevard, Victor/Victoria, A Railway Station for Two, and Doctor Zhivago. That was an unforgettable time for me. I still remember my first composition was a small "impression" after watching Cross Creek, which is about Marjorie Kinnan Rawlings and her novel The Yearling. Later on, my mother had given up her distinguished career and became a housewife in order to take care of young me. What she sacrificed for me always affects my work as well as me. I really want to thank my mother for being a role model of the tough but kind-hearted women I portray in my composition.
Un12: Do you have any upcoming projects you are excited to share?
JS: I am working toward releasing my first CD, featuring American Composers' works, Nikolai Kapustin's preludes and fugues, and some of my compositions. Since I like American contemporary music very much, to release a new album of that has become one of my greatest desires during the past few years. I will play pieces by Ned Rorem, Jennifer Higdon, Mason Bates, David Amram, and Sebastian Currier in this album. But now I am seeking sponsorship and trying to find companies which can help me with records. Without any doubts, I will do my best.
I want to be able to bring the sound of America to Chinese people, and at the same time, present Chinese traditional music to Americans.